INFINITI QX80 VS Mercedes-Benz GLS

Feel the Drive.
Test the Difference.
Book a test drive today at Hyatt Infiniti.
2024 INFINITI QX80 VS. 2023 MERCEDES-BENZ GLS
The 2024 INFINITI QX80 is a full-size premium luxury sport utility vehicle from INFINITI. It has been on the market for quite some time and received significant updates last year, improving onboard technology and overall performance while preserving the reliability, comfort, versatility, and ruggedness that have characterized the flagship INFINITI SUV for years. The QX80 has a unique set of characteristics that allow it to differentiate itself from its rivals like the 2023 Mercedes-Benz GLS. Delivering better standard performance and more towing capability while also providing more interior space, the 2024 INFINITI QX80 has the Mercedes-Benz GLS beat in many areas important to full-size luxury SUV buyers.
2024 INFINITI


QX80

Engine

5.6-litre V8

Horsepower

400 hp

Towing Capacity

8,500 Ibs

Seating Capacity

7

Total Cargo Space

2,694 L
Raise Eyebrows and Expectations
See how the Infiniti QX80 compares to the Mercedes-Benz GLS.
Infiniti QX80

Mercedes-Benz GLS
MSRP

Standard Powertrain

Standard Horsepower

Towing Capacity

Cargo Space – Total

Cargo Space – Behind third row

Lane Departure Prevention

Ventilated Front Seats

Multi-Row Climate Controls

Rear Seat Entertainment System
Significantly better value
With a starting price of $90,139, the 2024 INFINITI QX80 starts at over $21,000 less than the entry-level 2023 Mercedes-Benz GLS. Despite offering a more accessible starting price, the QX80 does not compromise on features, providing standard ventilated front seats, multi-zone climate controls, and even a rear-seat entertainment system, all of which are optional on the 2023 Mercedes-Benz GLS.
More interior space for cargo and passengers
One of the highlights of the INFINITI QX80 is the impressive versatility of the interior and cargo areas. The 2024 INFINITI QX80 provides welcoming and generous second- and third-row seating while also providing more cargo capacity than the 2023 Mercedes-Benz GLS. Total cargo space reaches 2,694 L, while cargo space behind the third row is rated at 470 L. Overall, the QX80 provides nearly 300 extra litres of total cargo space, and 120 extra litres of space behind the third row.
Better performance and towing capacity
The 2024 INFINITI QX80 comes standard with a 5.6-litre V-8 that provides 400 hp, providing owners with a max towing capacity of 8,500 pounds. The 2023 Mercedes-Benz GLS comes standard with a 3.0-litre inline-six turbocharged engine that provides 362 hp. Not only does the GLS feel slower than the QX80 and its proven V-8, but the GLS offers 7,616 pounds of towing capacity, nearly 800 pounds less than a QX80.
Discover premium refinement, exceptional value, better towing capacity and more interior space when you choose a 2024 INFINITI QX80 over a 2023 Mercedes-Benz GLS.
Customize Your Infiniti.

Champagne Quartz
Moonstone White
Hermose Blue
Anthracite Gray

Black Obsidian
Mineral Black
Liquid Platinum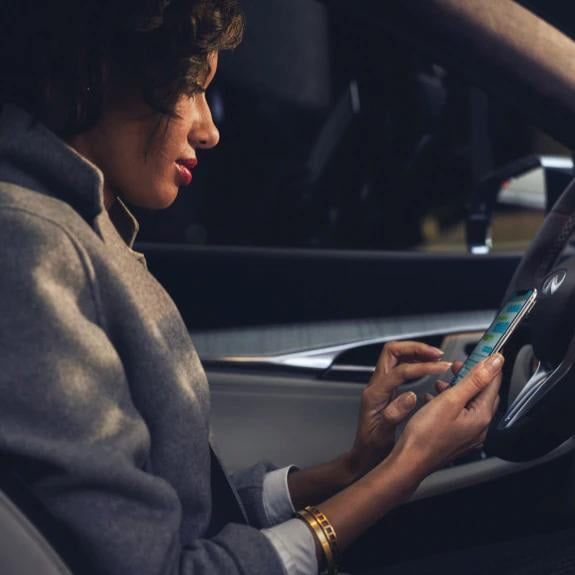 Why Buy an Infiniti?
INFINITI has been creating vehicles that empower you to reach your full potential since 1989. INFINITI produces some of the most elegant vehicles in the industry that are both stylish and budget-friendly. Intelligent All-Wheel Drive, Intelligent Key, INFINITI InTouch™, INFINITI Safety Shield® and other cutting-edge technologies are included in INFINITI vehicles.
INFINITI has won several prestigious awards in recent years, and that's no surprise. In addition to providing aftermarket support that allows you to modify your vehicle outside of warranty, the INFINITI brand has reputable and skilled vendors that stand behind their services. From the inside out, you'll experience a level of craftsmanship and attention to detail that can only be described as art. Take a closer look at the INFINITI brand and see for yourself.