Infiniti QX80 vs Lexus LX

Feel the Drive.
Test the Difference.
Book a test drive today at Hyatt Infiniti.
2024 INFINITI QX80 VS. 2023 LEXUS LX
As a full-size premium SUV, the 2024 INFINITI QX80 provides a host of features that ensure your safety, comfort, and performance on the road. With its powerful powertrain delivering exceptional towing capacity, generous interior space and versatility, impressive off-road capabilities, it's no wonder the QX80 has been such a popular option in the three-row luxury SUV segment. Compared to the 2023 Lexus LX, the QX80 delivers similar performance and off-road capability, but it has its Lexus rival beat in terms of towing capacity, interior space, and overall value.
2024 INFINITI


QX80

Engine

5.6-litre V8

Horsepower

400 hp

Towing Capacity

8,500 Ibs

Seating Capacity

7

Total Cargo Space

2,694 L
Raise Eyebrows and Expectations
See how the Infiniti QX80 compares to the Lexus LX.
Infiniti QX80

Lexus LX

MSRP

Standard Powertrain

Standard Horsepower

Towing Capacity

Cargo Space – Total

Cargo Space – Behind third row

Second-row legroom

Third-row headroom
Significantly more interior versatility and cargo space
When it comes to interior space, the 2024 INFINITI QX80 is definitely the winner when compared to the 2023 Lexus LX. With more than 100 extra millimetres of second-row legroom, passengers in the QX80 will have significantly more room to stretch out. There's also more legroom for passengers in both the first and second rows in the QX80, making it a far more comfortable option. Additionally, cargo capacity is much greater in the QX80. In total, there's nearly 800 litres more cargo space in the 2024 INFINITI QX80 compared to its Lexus counterpart, with nearly 160 litres more when all three rows are in use. If you're looking for an SUV with plenty of room for passengers and luggage alike, then the INFINITI QX80 is certainly your best bet.
More for less
When it comes to pricing and value, the 2024 INFINITI QX80 offers a clear advantage over the Lexus LX. While the LX starts at $108,900, the QX80 is available for $90,139, a difference of over $20,000. However, this doesn't mean buyers are sacrificing luxury or features when choosing the more affordable QX80. Both models come with advanced driver assistance features such as intelligent cruise control and lane departure warning with haptic steering wheel feedback for added safety and convenience on the road.
Connectivity technology is also impressive in both models, with the QX80 offering a 12.3-inch centre display with onboard Wi-Fi as standard. In terms of comfort amenities, there's barely any difference between them: heated and ventilated front seats are standard on both premium SUVs as well as a heated steering wheel feature. However, there is one additional bonus that comes with selecting the INFINITI QX80: its predictive front-collision warning system that can detect two vehicles ahead for added safety.
Superior towing capacity
The 2024 INFINITI QX80 and the 2023 Lexus LX are both powerful, premium SUVs that feature impressive towing capacity. The QX80 offers a standard 5.6-litre V8 engine with 400 horsepower and 413 pound-feet of torque, providing plenty of power to tow up to 8,500 pounds. The LX comes with a 3.5-litre turbocharged six-cylinder engine, which offers adequate power for towing up to 8,000 pounds. Both engines offer solid performance when it comes to hauling large amounts of weight, but the larger and more powerful V8 in the QX80 gives it an edge over the LX when it comes to towing capacity and overall performance.
Customize Your Infiniti.

Champagne Quartz
Moonstone White
Hermose Blue
Anthracite Gray

Black Obsidian
Mineral Black
Liquid Platinum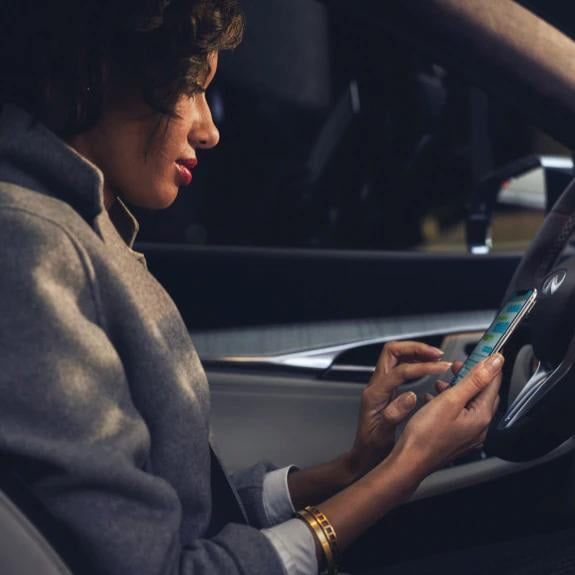 Why Buy an Infiniti?
INFINITI has been creating vehicles that empower you to reach your full potential since 1989. INFINITI produces some of the most elegant vehicles in the industry that are both stylish and budget-friendly. Intelligent All-Wheel Drive, Intelligent Key, INFINITI InTouch™, INFINITI Safety Shield® and other cutting-edge technologies are included in INFINITI vehicles.
INFINITI has won several prestigious awards in recent years, and that's no surprise. In addition to providing aftermarket support that allows you to modify your vehicle outside of warranty, the INFINITI brand has reputable and skilled vendors that stand behind their services. From the inside out, you'll experience a level of craftsmanship and attention to detail that can only be described as art. Take a closer look at the INFINITI brand and see for yourself.